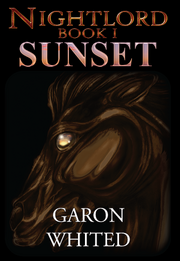 Sunset is book number 1 of the Nightlord series by Garon Whited.
Sunset brought a hangover, a beautiful woman, and the thirst for... blood?
Eric didn't ask to be a vampire.
In fact, he didn't even believe in them. Then he meets a beautiful woman, wakes up with a hangover, and bites his tongue with his own fangs.
Which pretty much settles the question.
Now he's trying to hold down his day job while learning the rules of the Undead -- the most important being that bloodthirsty urges and predatory instincts are a real bitch.
Upside; Eric has the beautiful Sasha to teach him the ropes, including the magic he'll need to survive.
Downside; it turns out being a vampire is the least of his problems.
When Sasha is killed, Eric is thrust into an alternate world in his quest to avenge her death. There he becomes a Nightlord, fights a dragon with the help of his magical steed, Bronze, and upchucks a sword named Firebrand.
But things get really interesting when Eric finally finds Tobias, head of the Church of Light. Soon Eric finds himself at the center of an epic battle at the literal edge of the world in a fight to keep a terrible darkness at bay.
"When you fall off the Edge of the World into hordes of demonic 'Things from the Outer Darkness,' you really start to wonder about your life choices."
--Eric, part-time undead, expectant father, and short-term astronaut.