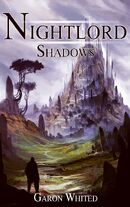 Shadows is the second book of the Nightlord series. Garon Whited's continuation of the series has plot twists, intelligent world-building,and laugh-out-loud moments.
It's not easy being King. In fact, it's enough to make a man want to go home.
Eric of Earth has become Halar, King of Karvalen, and he's been asleep for 87 years. He awakens from the involuntary slumber to find his kingdom isn't exactly how he left it.
For starters, there's his fire-goddess mother in law. A collection of deranged professional magicians keep getting in his way. And don't forget the wizards, the princes, and his daughter with the wild temper and the magic to back it up.
As he tries to overcome the steep learning curve for sorting out his kingdom, he encounters ruthless enemies. If he can't rally his kingdom to stop the sinister foes, then his post-dream life will turn into a nightmare in a hurry.